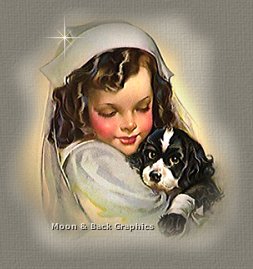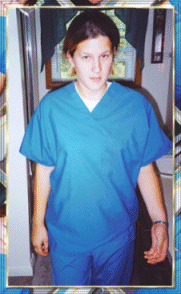 Heavenly Love
Heavenly love was all that could help me.
I was astray so sad and alone.
I looked above my burdens all left me.
Now I can say Heavens my Home.
Troubles of earth so often o'er take me,
Burdens of life with heartache and care.
Heavenly love will never forsake me,
Filling my need, Jesus is there.
When I shall stand at Jordan's dark river;
shadow of night are gathering above.
There is a power I know will deliver.
Heavenly love, Heavenly love.
Heavenly love the love of my lord;
Lifting above for he is my sword and shield.
Giving me light in the darkness of night.
Heavenly LOVE, Heavenly LOVE.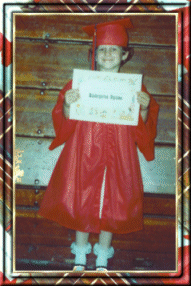 IN LOVING MEMORY OF OUR DAUGHTER ..
CARRIE
3/31/84 - 2/26/02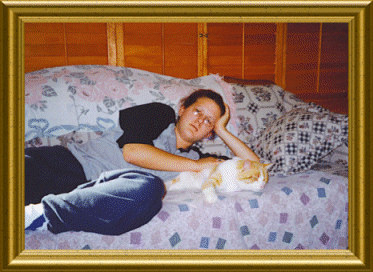 Carrie & Ollie

I See Your Pain
I see your pain and want to banish it
with the wave of a star.
But, I have no star.
I see your tears and want to dry them with
the hem of an angel's gown. But, I have no angel.
I see your heart fallen to the ground and want
to return it wrapped in clothes of woven rainbow.
But, I have no rainbow.
God is the One who has stars,
and angels, and rainbows.
And I am the one God sends to be with you until
the stars come out and the angels dry your tears
and your heart is back in place rainbow blessed.
~Author Unknown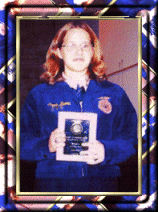 TO YOU, FROM ME
I know that comfort does not always come froma human,
But you were like a teddy Bear to us all.
You were there when we were sad and always made us smile,
You were there to pick us up if ever we should fall.
But now you are gone and shall not return,
And so we frown that cannot be turned upside down.
We hear your voice still in our minds and hearts today,
We hear you fuss at us and say "Do not Frown".
You are in Heaven now with your brother Aaron,
Your parents are sad and pray to you "Please take care of him",
We mourn for the tragedy until the truth that we say comes,
we will once again in Heaven see them.
And so I write this poem to you and your brother,
To let you know that in our hearts
you two people will be above all others.
In memory of Carrie and Aaron Beams
By: © Samantha Paxton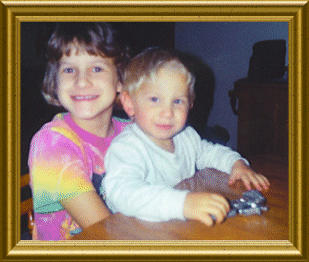 Carrie & Aaron



© Deb
1998 - 2015