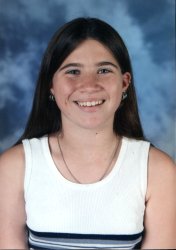 TARA DIANE BRICKER
Tara Diane Bricker, 15, died at 8 a.m.
Tuesday, March 9, 1999, from a
self-inflicted gunshot wound.
Ms. Bricker was born Dec. 6, 1983
in Joplin. She attended Carthage
Junior High School, where she
was a member of the choir and
A Band. She was an honor roll
student and a member of the
Full Faith Church, Carthage.
Surviving are her adoptive
parents, Bob and Charlotte Bricker
of Carthage; her biological mother,
Pamela DePreste of Webb City;
a sister, Paula Bricker, Carthage;
two half-sisters, Rianna DePreste
and Alisha DePreste, both of Webb
City; and her grandparents, Leland
and Genevieve Jackson, Carthage,
and Rubie and LaVaun Long, Carl
Junction.
Services will be held at 10 a.m.
Friday at First Assembly of God.
The Rev. Mitch Miles will officiate.
Buriel will be in Oak Hill Cemetery.
Pallbearers will be Dave Gumm,
Jeremy Jackson, Kyle Jackson,
Brandon Jackson, Matt O'Banion
and Matt Hermann.
The Carthage Junior High Band,
employees of Flex-O-Lators and
employees of Precious Moments
will each be seated as a group.
Visitation will be from 7 to 8 p.m.
Thursday at Ulmer Funeral Home.
Contributions may be made to
Carthage R-9 School Foundation,
Jr. High School Band, in care of
the funeral home.

~ CHILD GONE HOME ~
When God call little children
to dwell with Him above,
we mortals sometimes question
the wisdom of His love.
For no heartache compares with
the death of one small child,
who does so much to make our
world seem wonderful and mild.
Perhaps God tires of calling
the aged to his fold,
so he picks a rosebud
before it can grow old.
God know how much we need them,
so He only take a few,
to make the land of Heaven,
one beautiful to view.
Believing this is difficult,
still somehow we must try,
the two saddest words mankind know,
will always be good-bye.
So when a little child departs,
we who are left behind,
must realize, God loves children,
angels are hard to find.
~AUTHOR UNKNOWN~



© Deb
1998 - 2015


Free JavaScripts provided
by The JavaScript Source