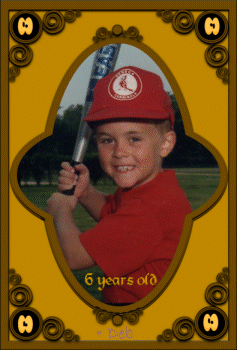 He always said he was just like Peter Pan
because he was never going to grow up. He
liked to play baseball and football. He knew
how to play chess after teaching himself.
He enjoyed acting .. he was in plays from eighth
grade until his junior year when he died.
I'm not ot sure that I could have picked which part
he played to be my favorite. He loved to sing and was
always singing whether it was with friends, the radio
or alone .. it didn't matter. Patrick was in a small
band of three boys...a drummer, guitarist and a singer.
Sure I don't have to say which one he was?
Patrick had many friends, but there were three
really good friends that I nicknamed the
"Four Musketeers." One was Drew .. they would
call each other when either had a problem and
talk for hours just like two girls .. but then
they were still your typical boys.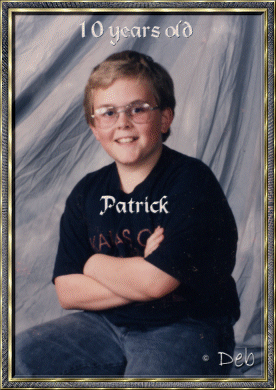 When Patrick died we asked Drew to stand up before
everyone and talk about him. At sixteen no one could
have asked for a better one to speak. He had us laughing,
crying, disliking and loving all Patrick did. But best
of all was the story he told about a bird house I had.
Mind you, the four Musketeers didn't like it one night,
when my husband and I were away, seeing this bee flying
in and out of the bird house. SO, thinking they could
get rid of the bee, they called Ben outside .. One of the
boys had some fire crackers so they told Ben, "We will light
them and you can put them in the birdhouse." Well, they
put enough in it because when we got home there was
pieces of wood all over and when asked not one of the
boys knew anything about it. But it all came out at the
funeral for our son. Once Drew told the story I said,
" So that's what happened to my birdhouse?"
Everyone was laughing, including me even with the
tears. But after it was all over we knew we had
chosen the right one to do the talking. Since then
we have heard many a story and the reason for many things
that happened. I would give anything to have my son here
to get into more trouble with his friends.
Patrick loved to call himself my navigator when we took
trips. We live in Georgia and we made trips to Indiana
to see my family and when he was out of school on break
him and I usually made the trip. Of course he wasn't much
of a navigator since five mile down the road he was asleep.
Yet those were the days that Mom and son had together and
we were very close and I miss him terribly. Of course I know
in my heart that he is in the best place ever.
Until next time this is enough for now. Oh, one last thing ..
Patrick loved playing with his two nephews. He would get on
the floor and let them jump from furniture onto him and
complain how it would hurt but not once would he get up and
not play. They miss him a lot too as does his only sister,
Jennifer, (he never called her Jennie), only Medusa.



Web Counter has seen
visitors.


  © Deb
1998 - 2015
Free JavaScripts provided
by The JavaScript Source